The most efficient HACCP tools on the market
EEat and its HACCP application are your allies in the management of HACCP procedures. 
Thanks to EEat you can carry out all of your self-checks on an effective and innovative mobile application:
✅ No more loose sheets
No more archiving self-checks in filing cabinets
EEat manages 3 major types of tools
Connected sensors
No more manual temperature monitoring.
An HACCP application
No more loose sheets.
The food traceability
One simple picture to keep track of the used products.
Automated temperature controls
Use our connected sensors to automate your temperature readings! There is no more need to take daily temperature readings. EEat does it for you.
Our connected sensors measure the temperature, send it to our platform and automatically archive it in our secure servers in Switzerland.
You can then access all data on a modern and efficient User Interface. 
But that's not all. EEat also alerts you (by SMS or email) as soon as a temperature point is non compliant.
The HACCP application dedicated to the restaurant and catering industry
Use our HACCP application to perform all your self-checks with a tablet.
Dites au revoir au papier et simplifiez la réalisation pour vos équipes.
Say goodbye to paper and simplify the process for your teams:
Cleaning plan
Rapid cooling
Storage temperature
Second labeling
Goods reception
Food temperature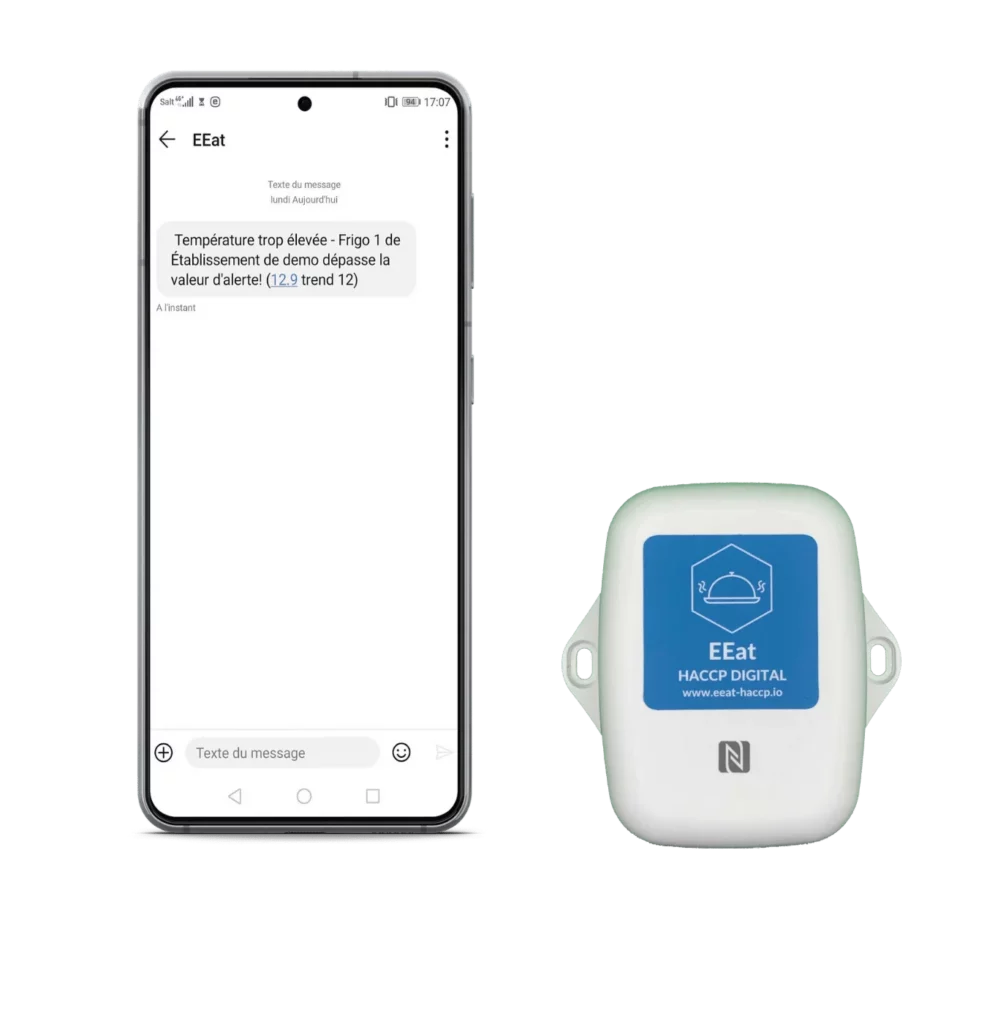 A flawless upward and downward traceability
Easily manage the traceability of all your preparations, your processing and the packaging of your products.
With EEat no more paper preparation sheets or excel files shared between staff members.
You can carry out the entirety of your traceability on the application from your phones, tablets and computers.
EEat stores the data specific to each production (batch number, expiration date, Latin name, …). Finding a batch number in the event of a recall or inspection is then child's play. You can enter the batch number in the search bar and find its production history, from its reception to its packaging!
EEat also offers a multitude of additional features
A simplified HACCP training courses register
Easily manage the training of your teams. How do you know who has been trained and when? It is never easy to keep track of all the staff's training.
EEat and its application allows you to easily monitor the training of your teams and provide them with the necessary information for their course in a standardized manner. As soon as a training course has been completed, you simply need to designate the people trained on the app.
It is also possible to share information (documents, videos, procedures, …) about the HACCP organisation and food hygiene with your team. We allow you to create your own online training forms.
Track the training status of your staff and plan further training courses with ease!
Task execution
Plan all types of tasks to be carried out by your teams. Do you want to make sure your teams don't forget to place the weekly order every Thursday? Just create a task.
Do you want to track the maintenance of your production devices and be reminded of when it's necessary to have them checked? Just create a task.
Our data entry and reminders' module is very competent. Only your imagination can limit its use!
Want to learn more about its possibilities?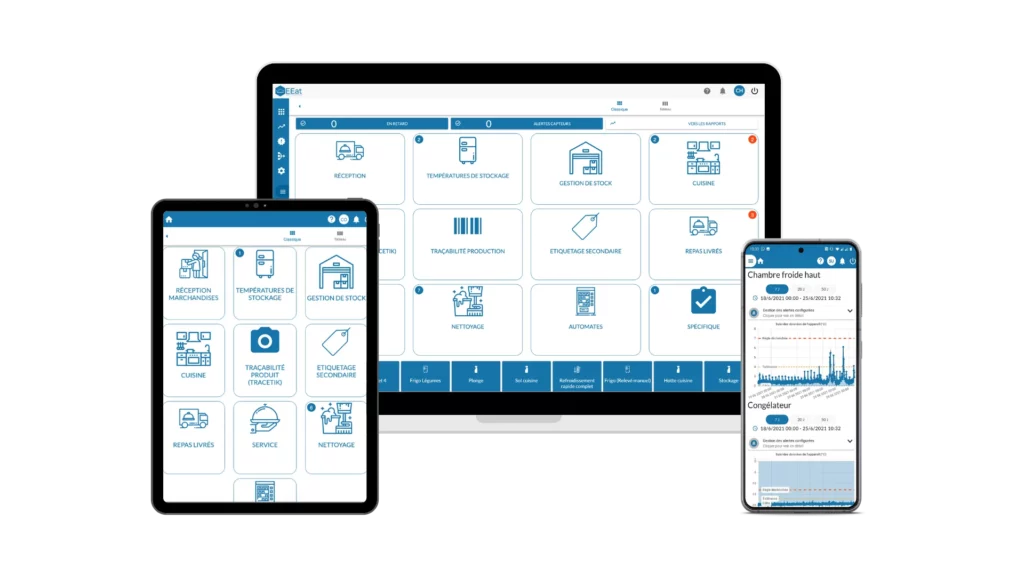 Managing HACCP documentation
Our HACCP application includes a file management module similar to Dropbox or Google Drive.
You can store any type of file you would like, ranging from the production report to your lab's analysis report. We take care of their archiving in a secure and sustainable manner.
You can organize your files into folders according to your own nomenclature. EEat specializes in traceability, even for your documents. Our application saves all versions of your documents, so you can easily go back in their history.