Butchers free themselves from HACCP
By choosing EEat and its HACCP application:
✅ Take delivery of your goods in a few clicks.
✅ Monitor temperatures effortlessly.
✅ Guarantee the traceability of your products.
✅ Ensure standardised HACCP training for your staff.
✅ Keep track of cleaning and say goodbye to oversights.
Whether you are a meat wholesaler, an artisanal butcher, an industrial meat producer or a sales point manager, EEat assists you in the daily application of the HACCP method. The hygiene requirements in your field are high.
EEat is the perfect fit for your butcher's shop and deli
With EEat, you can control health hazards and guarantee the food safety of your customers.
A simplified and more complete traceability
Free up 30 minutes of your time per week in monitoring the cold chain
Enjoy 100% compliance with the health plan
The HACCP regulation
What do the regulations say about this?
Any establishment working with meat must implement the HACCP method in order to comply with the duty of self-checking, including in particular: the registering of products received upon reception of goods, the monitoring and maintenance of the cold chain, the implementation of a cleaning plan and a pest control plan, the labelling of products delivered or sold at the sales point, etc.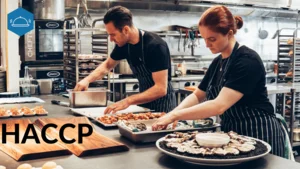 How to implement the HACCP method in your establishment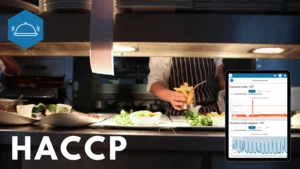 Download your free HACCP workbook
Set up customised self-checks
The various meat professions have one thing in common: they are all based on the know-how of passionate people. This know-how is closely linked to the HACCP method, the use of which is necessary and recommended by the authorities to ensure flawless hygiene.
EEat offers a flexible and universally accessible platform that fully adapts to your current processes (self checks). Your reception of goods is digitised (image capture, temperature control, visual quality analysis, …) and stored on our secure servers in Switzerland. Your cleaning routine is registered and reminders can be configured to avoid possible oversights. Do you have a pest control plan? We can digitise it for you.  Do some of your production processes require special controls (temperature readings, quality checklists, time tracking, …)? EEat can provide modules adapted to each of your needs.
Your teams are also continuously informed of the self-checks to be carried out to ensure a 100% controlled compliance. With our HACCP training module, informing your collaborators about your processes and standardising your methods is child's play.
If you are a manager, our customised dashboards allow you to keep an eye on the checks carried out and quickly detect and address any problems. In the event of a control by the authorities, you can easily retrieve the information requested. 
By using EEat you choose a solution that meets your needs, ensures you 100% compliance and gives you greater peace of mind in your day-to-day life.
Ensure the traceability of your incoming and outgoing products
You are supplied with a beautiful piece of meat and you store it. You then use it in combination with other products to make a high-quality terrine. The resulting terrine is finally conditioned and sent to your distributors or directly to your points of sale.
It is essential to be able to clearly trace every product received, processed or sold that has passed through your hands in order to guarantee food safety. A potential contamination identified at one of your suppliers? How can you find out exactly where the concerned batches are located?
EEat has designed an intuitive and complete digital traceability tool for you. In just a few clicks you can manage your recipes and preparations, indicate incoming batches and the name of suppliers, enter consumption and production dates, keep a record of any processing carried out and create a conditioning register containing your output numbers.
In line with our philosophy, we offer you the possibility to customise the traceability module to your usual processes in order to store the information that really matters to you.
To make your life even easier, our team offers you a connected printer that allows you to generate labels containing all the necessary information in just a few clicks.
With EEat you can organise and store the relationship between incoming and outgoing batch numbers, keep a valuable production record in the event of a hygiene inspection and stay one step ahead of unexpected events.
Master the cold chain of your products
Working with meat requires several storage stages during which temperature is an important element to control in order to guarantee food safety and reduce the risk of contaminations. Monitoring the cold chain is a key element of the sanitary control plan.
The necessity of frequent temperature readings in various locations is very time-consuming and laborious, even though it is one of the most important self-checks of the HACCP method.
EEat provides its customers with connected objects to free them from these repetitive tasks. Our temperature sensors can be easily installed in any refrigerated chamber (cold room, meat display, …). Measurements are taken automatically at regular intervals and the data is saved on our secure Swiss servers. In the event of data exceeding the configured target value, you are automatically alerted by SMS or email.
Our dashboards allow you to view the evolution of temperatures over time, to detect incorrect performance and to analyse the refrigeration cycles of your installations.
Do you have hot processes to measure? Contact us to find out more about our range of sensors.
EEat alerts you in case of problems, saves you an average of 1 hour per week in cold chain monitoring and allows you to keep your cool.
Connected objects to save time and peace of mind
Simplified, complete and intuitive traceability
Comprehensive HACCP training with your teams for 100% compliance
With EEat, your butcher's shop is 100% compliant from 0.50 CHF per day
Discover our self-checks, particularly adapted to your butcher' s shop :
Secondary labelling: print your labels in 2 clicks
Cleaning: record the completion of your cleaning procedures
Reception of goods: archive and control the quality of your arrivals
Storage temperatures: relax, the control is automatic
Rapid cooling: keep up with the standards and follow the cooling stages
Traceability: effortlessly manage your incoming and outgoing batches
Inventory management: keep track of your products in real time
Cooking temperatures: keep a record of your cooking processes
Pest control: regularly check the hygiene of your premises
EEat can be implemented in 3 steps
1
You send us your current self-checks, we digitise them. You don't have any self-checks in place? We can advise you. Do you have your own processes? We can customise our system. Just contact us!
2
Would you like connected sensors? We can send you the sensors and our EEatbox to collect the data. Just follow our instructions to install it within minutes.
3
You can install our haccp app on the device of your choice (computer, tablet, phone) and you can free yourself from HACCP!